Two Norrbotten companies win awards
The Ica Entrepreneurial Award has two categories: Local Hero of the Year and Junior Local Hero of the Year.
The Piteå company Pensionatet, run by Lisa Hellmér and My Bergström, is awarded the Local Hero of the Year Award and the Luleå company Containing Greens, run by Moa Johansson, Adrian Mellgren and Ellinor Emilsson, is awarded the Junior Local Hero of the Year Award.

"What this year's winners have in common is that they make their local areas develop and grow with heart and soul - Pensionatet with its creative oasis in Piteå, and Containing Greens by enabling fresh, locally grown and climate-smart vegetables regardless of the season," says Nina Jönsson, CEO of ICA Gruppen and chairman of the jury. 

The destination Pensionatet in Piteå began as a small bed and breakfast over 10 years ago and has gradually expanded with several activities. There is now also a studio, a ceramics workshop, a coworking space and a bakery. The goal is to create a place for meetings, people and food, and to capture the feeling of what defines Piteå. They want to be a hub for local innovators, creators and cultural promoters.

Containing Greens was founded by three students at Luleå University of Technology who met in an idea development program at LTU Business. They started investigating how waste heat from server halls can be utilized in hydroponic systems to grow vegetables. In recent years, they have won several innovation awards. Now they are scaling up their operations.

The prize money is SEK 100,000 in each category, and the winners have been selected through an open vote and by a jury consisting of Nina Jönsson, CEO of ICA Gruppen, Anna-Karin Hatt, CEO of the Swedish Farmers' Union, Sara Rosengren, Professor of Business Administration at the Stockholm School of Economics, Noel Abdayem, entrepreneur and founder of The Humble Co, Petra Peters, Partner Manager at Ung Företagsamhet and Petter Nilsson, ICA retailer at ICA Nära Riksgränsen.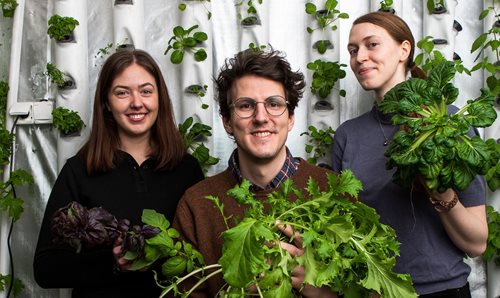 Moa Johansson, Adrian Mellgren and Ellinor Emilsson, Containing Greens
Lennart Håkansson
editor@northswedenbusiness.com